FARMING IN THE GREATER HUDSON VALLEY
BY LAURA UZZILIA FOR DUTCHESS COUNTRY REALTY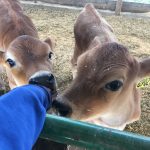 At 26 years old and living in the greater Hudson Valley region of New York, I thought I knew all there was to know about our local farms. That is until I recently visited Dutch Hollow Farm.
This farm is a dairy farm in Schodack Landing, NY with 700-800 head of Jersey (milk producing) cows. If you have never heard of them, or the area surrounding it, do yourself a favor and look it up because it is gorgeous! I grew up in upstate New York, the Catskill Mountains to be exact. Growing up in the greater Hudson Valley you did see the farms, but I had never really experienced farm life. My family didn't own one, and I didn't have any friends with any either.

I was visiting Dutch Hollow Farm because I am studying to be a veterinary technician. The impressive thing about this farm is its size, cleanliness and the friendliness of all their staff (including the cows).

If you ever want to visit a farm or take the kids to see one, this is the place. You don't need to be a student to stop by. Dutch Hollow offers tours of their farm including opening their doors to local school children. Thousands of kindergartners visit the farm each year to learn all about farm life.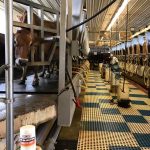 Our tour guide for our visit was Nate. He is one of the many family members that work on the farm, which includes his brothers and their families along with his wife and kids. He was extremely friendly, talkative, knowledgeable, and hilarious in explaining all the daily operations of the farm. Anything you ever wanted to know about farming – you ask Nate, and he will gladly answer.

I was impressed at how advanced this farm was. They have put a lot of time and effort into combining the best business practices, with the latest technology for developing the best protocols for caring for their animals.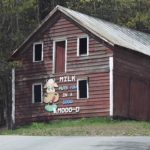 The first thing I noticed is that cows aren't pasture raised. I asked Nate why and he said that they live longer in the barn. Now, if you're thinking like I was you'd say, "the barn?" But yes, the barns at Dutch Hollow are designed specifically for the cows. Their beds are filled with sawdust underneath for comfort; they have plenty of ventilation in the summer and heat in the winter. Quite frankly, all of these ladies seemed pretty content with their living situation. Plus, they are all incredibly friendly from being near humans their entire lives, which is a bonus. Warning: they will try to lick you if you visit.


Throughout our tour, we got to see the many barns ranging from where the regular milking cows stay to where they give birth, the "nursery" with all the calves, and the milking parlor. It was so interesting to see all of these facilities and the organization that goes into making sure this farm runs smoothly.

Dutch Hollow Farm sells their milk to many places locally, but also to other locations in New York City and Massachusetts. They work with a nutritionist to make sure that the feed is a close-to-perfect blend so the cows will flourish. They even have machines that they use to move and mix the food (like an excavator) that are all connected to Wi-Fi (yes, Wi-Fi!) They know exactly how much of each ingredient to mix in to a machine that is a giant food mixer. If they wanted to change the recipe to feed less or more, the computer amazingly knows how to do that too just by the push of a button. Also, the machine can read the tags on the cows ears, so there are no seconds servings!
Now, if me mentioning friendly cows that want to lick you and their cute calves isn't enough to entice you to visit, learning all about these animals and the way that Dutch Hollow Farm operates is pretty fascinating itself. To schedule a tour at Dutch Hollow visit http://jerseysites.usjersey.com/dutchhollow/educationcenter.html.
If Schodack Landing is a little too far to travel, there are TONS of other farms closer. One that I can recommend is Lo-Nan Farms in Pine Plains, NY, where, buy the way, the cows have waterbeds! Lo-Nan has a similar type of facility as Dutch Hollow Farm, and the staff is also incredibly friendly. The Hudson Valley Region has lots to offer, so get on out and find out how your milk got into that bottle.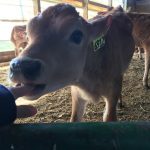 Lo-Nan Farm, Pine Plains, NY
RonnyBrook Farm Dairy, Ancramdale, NY
Hill Over Holstein, Copake, NY