The White Gallery opens "The Art of the Print and Works on Paper" on Friday, July 20th with an opening artist reception on Saturday, July 21st from 5 – 7 pm. Discover the best etchings, drawings, and mixed media on paper from these distinquished artists.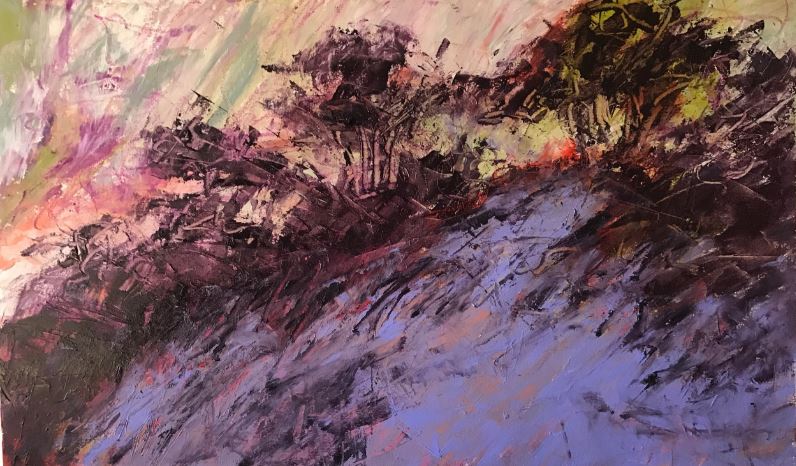 Joan Jardine, "Red Planet" 15" x 24"
"There are eleven Connecticut artists as well as two from France. The colors of the images are unique to each of these artists whether stone prints, intaglios, monoprints or other works on paper, each have mastered the techniques with beautiful results. The variety of techniques and subjects are enjoyable to work with and to exhibit. Truly an opportunity to immerse yourself in the world of Prints and Works on Paper," said Tino Galluzzo, Director of The White Gallery.
The show includes the works of local tri-state artists Allen Blagden, Ann Chernow, Naomi Grossman, Joan Jardine, Natasha Karpinskaia, Nancy Lasar, Alan McCord, Terri Moore, Constance Old, Randy Orzano and Nancy McTeague-Stock.
"We enjoy curating this event every several years because it gives us the opportunity to highlight the work of many artists in one exhibit all working with paper," said Galluzzo.
Blagden is one of the most outstanding watercolorists of his time. His penetrating renderings of sky and water, of people, birds, and landscapes fall within the academic traditions of the best of American realist painting.
Highlighting the scenes from 1030's and 1940's movies, Chernow, uses film characters and period settings to create a sense of déjà vu or nostalgia without the sentimentality often associated with specific film stars.
Abstract artist Karpinskaia is enticed by the primary artistic elements that abstract offers – color, shape, line, and texture. She works in layers, printing, and painting over previous surfaces many times.
Moore, inspired by nature, works in oil, graphite, charcoal, and watercolor to reflect life and the environment.
McCord's work has evolved from strict abstract expressionism to color-drenched landscapes that combine realism with abstracted composition. He often paints the rolling hills and fields locally.
Taking advantage of the excesses of the consumer economy, Old captures the spirit of the 21st-century using everyday materials to attempt to make fleeting aspects of human experiences 'concrete'. Similarly, Mctague-Stock uses paint, print, and digital media as a process-oriented bridge, to combine her technical grounding in artistic tradition with 21st-century innovation.
Most fascinating is Orzano's work done in 'collaboration' with bees. By placing paper and canvas in beehives, the bees put wax and propolis on the surface and remove the paper by tearing off pieces and discarding them.
A mixed media artist, Grossman's work often deals with issues of power, control, relationships, silenced voices and finding an 'authentic voice.' Her new pieces for this exhibition all relate to memory and desire.
Energizing space and the passage of time is the focus for Lazar with her drawing, painting, and printmaking.
Jardine, a colorist, and contemporary impressionist discovered color and the painting knife which had an enormous influence on her work. Her artwork focuses on color and seeing the way the atmosphere affects objects.
The exhibit also includes works by French artists Nathalie Chabrier and Roger Forissier. Chabrier, a former pupil of the Beaux-Arts in Paris and an emblematic painter of the 21st-century, practices engraving and lithography of typical Paris. Forrisier over his lifetime painted thousands of landscapes, still lifes and portraits all over Europe.
The White Gallery is one of Northwest Connecticut's and the Tri-State regions premier art galleries, presenting Modern Contemporary Masters and the best of emerging artists. Located at 342 Main Street, Lakeville, CT. The gallery is open Thursday – Sunday, 11am – 4pm or by appointment. For more information call 860-435-1029 or visit thewhitegalleryart.com or Facebook.com/the-white-gallery.